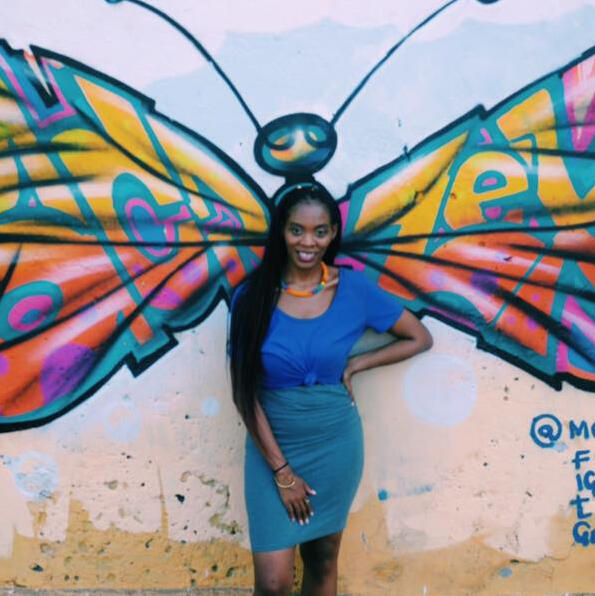 🙋🏾 Hi, I'm Meshia!
Wanderpreneur aka Location Independent Entrepreneur. Digital Strategist and Sourcing Consultant for Beauty, Lifestyle, Wellness, and Travel Brands. Plantain Connoisseur. Bridger of the Black Atlantic. Young Griot. The Plug.
Armed with her nomadic spirit, curiosity, and business savvy, she's real-lifeing the laptop lifestyle. As the human version of a Swiss Army Knife, Meshia seamlessly blends her seemingly different yet interconnected academic, professional, and creative curiosities into every single thing she does.

Plugged into the rhythms of cities from Dakar to Jozi to Kigali to Nairobi to Accra (her current base), Meshia has spent the last six years helping folks travel Africa beyond clichés. Her tailor-made experiences take travelers deep inside the worlds of history, arts and culture, food and spirits, architecture and design. Meshia's connections and extensive knowledge base, give travelers insider access to a city's creative and cultural heart as they are led by artists, chefs, designers, historians, makers, musicians, and more through personal kitchens, studios, neighborhoods, work spaces, and locals-only haunts.

Inspired by her travels across fourteen African nations and counting, she founded Cool + Collected Africa - a collection of artisan made goods for you and your home. When she's not eating fried plantains or talking about herself in third person, she's a digital strategist to travel, beauty, wellness, and lifestyle brands as well.
SELECT WRITINGS, FEATURES, & INTERVIEWS
currently
One of the questions people ask most often is, "what are you doing now?"... so, I created this page to share what I'm up to.

What I'm working on professionally:
-launching a wellness-focused travel company
-fully launching [Cool + Collected Africa] (http://coolandcollectedafrica.com/)
-digital strategy plans and execution for a few beauty, lifestyle, & travel brands
-digital products/templates for small biz owners

What I'm working on creatively:
-art journaling
-building starter eCommerce stores & selling them
-writing eBooks on anything and everything from unconventional living to Instagram for Biz to living with autoimmune dis-eases

Things I'm learning about:
-the African Diaspora across the world.
-making organic brews + spirits from produce.
-Ayurvedic living & how to build daily routines + rituals according to my unique Dosha constitution.
-building and securing generational wealth.

Things I'm doing more of: cooking and eating. eating and cooking. traveling. talking to elder humans about life, history, and everything in between. random dates, meals, and get-togethers with close friends. phone calls. sleeping. taking even more risks. public speaking. betting on myself.

Things I'm doing less of: emails. texts. playing small.

Things I'm thinking about deeply: transnationationalism. relationships of all kinds. routines. rituals. habits. plantains.